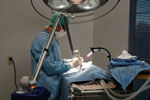 High quality medical and surgical care is our goal. We are pleased to announce the use of CO2 Laser Surgery as an option in most surgical procedures. We are one of few veterinary clinics in Lafayette, Louisiana to offer Laser Surgery. Laser technology is one more way we stay on the cutting edge to offer your pet the most advanced and current medical care available. See our Services page for more information. We offer boarding and grooming as well to meet the comprehensive needs of our clients. Please see our Services Page for more detailed information.
Introducing the Therapy Laser !
Manages pain
reduces inflammation
increases mobility
helps speed recovery
Commonly Treated Conditions:
back and joint pain
sprains and strains
post-surgical recovery
arthritis
Disc disease
Ask us how Laser Therapy can help?